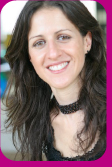 Verónica Braun is the Founder/Director of ¡HOLA! A Playgroup in Spanish, established since 2001.

Having the privilege to work with such diverse children, Verónica has enjoyed tremendous success teaching and interacting in unique ways that have given her the opportunity to expand her knowledge in bilingualism in order to develop programs. Aside from covering the daily operations of ¡HOLA! she teaches private as well as group classes in such prestigious venues as apple seeds, NY Kids Club, Kidville and others.

Born and raised in Mexico City, her main interest was to dance. Her adventurous spirit took her to Paris and New York where she not only discovered modern dance, but also performed with various dance troupes from 1990-1996 modern, ballet and flamenco dance. She also has a background in the music and audio post-production field, she became a voice-over for Hispanic advertising and worked for the advertising industry in production. She also worked for the Mission of Mexico to the U.N., handling inquiries regarding Mexico's diplomatic affairs.

Verónica's programs continue to develop and expand. There are a number of projects in the works that will further complement ¡HOLA!. She feels an intrinsic commitment to participate and support any activity that may contribute to the growth of our rich Latin cultures and the vast Spanish language in this nation. She is foremost, the proud mom of a bilingual 12 year-old boy.

¡HOLA! has been featured on NY 1 en Español, Time Out NY Kids and most recently on NBC Channel 4 News in the weekly segment "Family Matters".
To view an excerpt, please visit our What is Hola section.