¡HOLA! Baby Program
                        for 6-12 months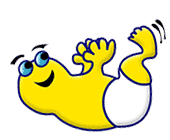 This program is our very first foundation to introduce the youngest participants to the Spanish language and sounds in a nurturing context through our early acquisition method, by using music, touch, movement and sensory stimuli before your baby reaches toddlerhood fostering a positive interaction between the child and their accompanying adult.
Mom testimonial with twins:
Oddly, the pickings are very slim for baby Spanish classes. You're the go-to Spanish teacher, I'll spread the word! The girls are doing great, I always hire Spanish speaking nannies so that they are around it as much as possible.